Translational/Clinical Research Support and Partnerships
HSRLCE is integrated with every teaching hospital engaged in cardiovascular research at University of Toronto. We have established support nodes in: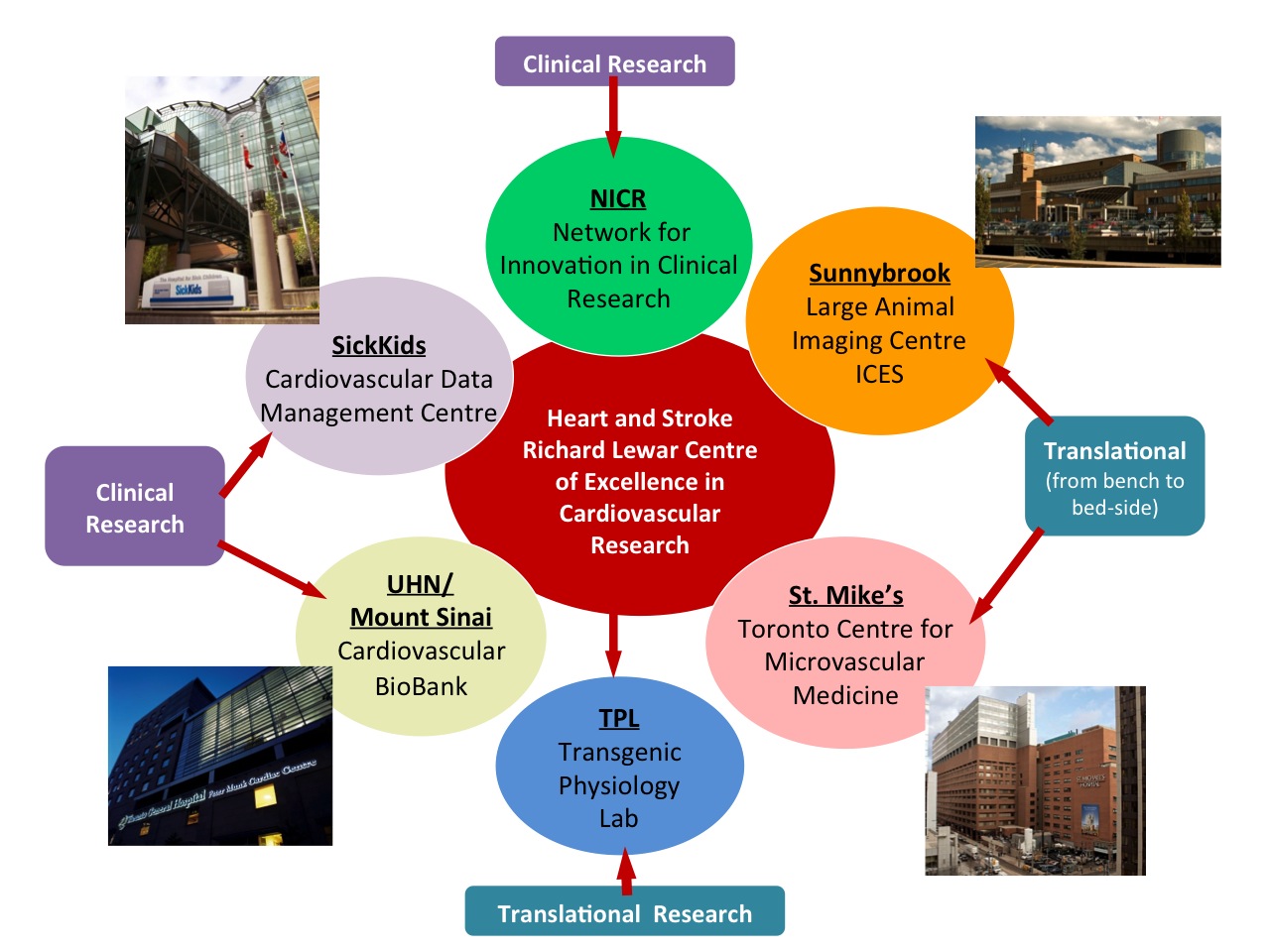 Clinical Research
Network for Innovation in Clinical Research (U of T): Birthed as a result of a University of Toronto's initiative to conduct single and multicentre trials under the leadership of the University's cardiovascular clinical investigators. Membership encompasses all the University's cardiovascular partners. NICR's activities are broadly divided into 5 major categories: clinical trials; registries and observational studies; core laboratory functions; adjudication committees; and continuing medical education.
Cardiovascular Data Management Centre (Sick Kids): Serves the cardiovascular disease community by forging linkages between databases, providing access to the data for researchers and clinicians, providing risk adjusted reports for clinical quality improvement initiatives, and by providing statistical services to participants. Visit the CVDMC web site for more information: http://cvdmc.utoronto.ca/
Cardiovascular Biobank (UHN/Mount Sinai): The mission is to establish and maintain a standardized approach to human specimen accrual, management, distribution and use for research purposes. The objective is to improve accessibility for our researchers to blood and tissue specimens from patients suffering from cardiac and vascular disease and to create a framework that promotes appropriate standards of quality and security. Visit the Biobank web site for more information: http://www.uhn.ca/PMCC/Research/Pages/cardiovascular_biobank.aspx
Translational Research
Microvascular Research (St. Michael's Hospital/U of T): Mandate of the Toronto Centre for Microvascular Medicine is to translate existing knowledge, concepts and techniques from animal models directly to human tissues and then on to clinical treatment. The goal is to correlate changes in human microvascular function with a specific disease process in patients, thereby making the first real in-road into 'personalized medicine'.
Large Animal Facility (Sunnybrook): Focuses on the integration of large animal models of cardiovascular diseases with novel imaging modalities such as x-ray, MRI, ultrasound, optical coherence tomography and CT scanning (including micro-CT). Research at the clinic includes various forms of vascular disease (chronic total occlusions and atherosclerosis) and myocardial damage.
Transgenic Physiology Laboratory (U of T): Mandates of the platform are to provide mouse cardiac physiological assessment of mice, to generate mouse models of disease, and to allow acute genetic manipulation of mice as well as mouse tissues/cultures using viral-based gene transfer methods.
Transgenic Physiology Lab Services:
Invasive blood pressure recording (Millar micro tip catheter through carotid artery)
Evaluation of pressure-volume loop and cardiac output (Millar' Pressure Volume loop high fidelity catheter)
Electrophysiology (2.0 Fr electrophysiology (Numed) eight electrode catheter) arrhythmia assessment
Tail cuff blood pressure (invasive/non invasive and vice versa)
Echocardiography (Acuson Echo machine), high accuracy VEVO- 770TM imaging system (Visual Sonic)
Disease Models:
LAD ligation model
Carotid injury model
Aortic banding (transverse aorta)
Conditions:
6-8 weeks prior booking required
Transfer must be in accordance with the set protocol of the Department of Competitive Medicine, University of Toronto
Investigator must arrange transfer one day prior to procedure
Investigator must arrange transfer back to concerned facilities one day following procedure
To schedule a procedure, please contact Dr. Sanja Beca.
416-946-8111